Gulf Chemical is the official distributor for DuPont Krytox in Singapore.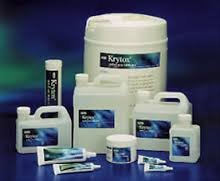 DuPont™ Krytox® Performance Lubricants for the Electronics/Semi-conductor Industry
DuPont™ Krytox® fluorinated, low-friction lubricants first earned their reputation for reliable performance in critical aerospace projects, such as the traction motors in NASA's Lunar Rover. Today, Krytox® lubricants have become invaluable resources to the electronics industry.
These non-toxic, long-lasting, multipurpose lubricating oils and greases are available in a wide variety of formulations to improve the performance of equipment in your production line. Whether you need safe, effective vacuum pump fluids or superior lubricity for bearings, valves, seals, O-rings, chains, compressors, gearboxes, mechanical pumps or other components, Krytox® oils and greases fight friction, seal barriers and can help lengthen the use-life of your equipment, even in extreme high or low temperatures. That means you'll have less downtime and possibly less need for replacement parts less often than when using conventional hydrocarbon lubricants.
DuPont™ Krytox® vacuum pump fluids are used in applications where conventional vacuum pump oils cause safety, waste disposal and maintenance problems. They are highly stable, non-flammable, help reduce the chance of fire in pumps, and do not contain acetal groups, which are susceptible to attack by Lewis acids. Krytox® vacuum pump fluids are also non-reactive with chemicals and safe to use in oxygen systems—so they can replace competitive (PFPE) fluids or any other type of vacuum fluid. Applications include semiconductors, wet and dry pumps, vacuum system sealants, cleanrooms, robotics and others.
The many benefits of DuPont™ Krytox® Performance Lubricants include:
Oxygen compatible and non-reactive with chemicals
Excellent vapor pressure to withstand high temperatures — from
-15 °C to 300 °C (0°F to 570 °F), at vapor pressures as low as 10−13 mmHg
Krytox® LVP grease will not explode, ignite, decompose, react to form gummy or solid deposits, or act as fuel for fires
Extended life−so you'll use a fraction of the usual quantities
Recognized by all major vacuum pump manufacturers
Undamaged by−and non-reactive with−acidic or caustic cleaners and disinfectants, steam, moisture as well as extreme temperatures and pressures that hydrocarbon, silicone and chlorofluorocarbon greases can't match
Chemically and biologically inert and silicone-free
Krytox® VPF fluids are inert and non-reactive to virtually all elastomers, plastics and metals
Krytox® oil for high-vacuum applications is also useful for sealing laboratory glassware connections and as a thread lubricant/sealant
Krytox® lubricants contain no volatile organic compound (VOC) materials or chlorine
Krytox® fluids can be regenerated, have a minimal environmental footprint and are compatible with chemicals commonly used in industry
DuPont™ Krytox® Performance Lubricants Help You Win Your Battle Against Friction.
For those who regularly manage lubrication issues, every day is a fight against the forces of excess friction, vibration and wear. DuPont™ Krytox® oils, greases and solvents offer advanced lubricant solutions for a broad variety of industrial applications.
---

Bearings & Sintered Bearings
Longer bearing life is the ultimate goal, and DuPont™ Krytox® greases can help you attain 5-50 times longer life.

Electric Motors
Krytox® greases offer the potential for a lubed-for-life solution in demanding electric motor bearing applications.

Functional Fluids
DuPont™ Krytox® laboratory professionals can help you develop your own unique and sustainable mono-functional perfluorinated ethers based on poly-hexfluoropropylene oxide.

Gearboxes
Krytox® oils and greases stand up to steam, caustic chemicals and temperature extremes, and won't oxidize — ideal for gear lubrication.

Extreme Temperatures
When the heat is really on, DuPont™ Krytox® Performance Lubricants prove their worth — extending component life and reducing downtime.

O-rings
DuPont™ Krytox® Performance Lubricants can improve the performance of your
O-rings — and make an excellent assembly lube.

Seals
Temperature resistant and compatible with most seal materials. When compared to conventional lubricants, Krytox® greases form better barriers and provide longer seal life.

Valves
Smooth operation in extreme temperatures and longer use-life make Krytox® lubricants a first choice for valve seals.